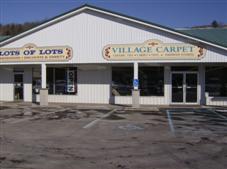 Village Carpet celebrates 25 years in Honesdale. We began in 1989 on route 6, 4 miles east of Honesdale. Five years ago we purchased a store that previously operated a furniture retail business. We converted this store to 3 stores total. We moved in and occupy one of the stores. We raised three children, sent them to college, attended their weddings and now have the joy of watching our four grandchildren grow.

We are, truly, proud to say a "Mom & Pop" store has survived the challenges of business these past 25 years. We have managed to keep our prices low and the quality of our workmanship high. Struggling through the latest economic downfall has proven to be quite challenging. Our normal clientele has felt the pinch, as all of us. Retail trade was not where it once was. People were no longer building new homes, as they once did. The influx of new residences was now over. While still looking forward to seeing and meeting our long time customers and new faces, we have also turned our sights to commercial work. We concentrated on developing our estimating dept. in an effort to broaden our commercial business. It has proven to be a recipe for success. Most recently we have completed projects at Ehrhardts Waterfront banquet hall, the Inn at Woodloch Pines and the Carriage House at Central House.

Our most recent challenge occurred on April 12, 2014. The Structure next door had a devastating fire. It is totally destroyed. By the Grace of God and the talents of five fire companies, Village Carpet's showroom and warehouse has been spared. The common wall between us and the house has sustained damage and our bathrooms and breakroom will need to be replaced. We have much smoke and water damage, and are rebuilding and anticipate being better than ever. Our offices have never closed, just were displaced and our installations continued as usual. A giant "Thank-you" goes out to White Mills Fire Dept, who led the fight and saved us. All the communities "Well wishes" have not gone unnoticed. When we were feeling down – you all lifted us up. Thank you from the bottom of our hearts.

Another 25 years – Who knows? Maybe….