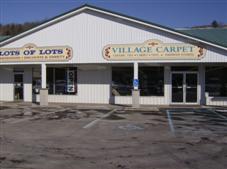 Hello and welcome to Villagecarpetpa.com located in Honesdale, Pennsylvania. Village carpet has been in business for over 20 years. Currently, we offer both residential and commercial work in the northeast PA area.
During 1988 – Bill Fehringer, a certified flooring contractor, while working on a jobsite in New York City, was asked to provide floor covering for a home in Hawley, PA. Bill often vacationed in the Pocono Mountains and was anxious to see Hawley. During this installation he realized how much he loved the area and wanted to move his family and business to this town. In 1989 his new home was built and his storefront was opened.
His business has grown since 1989. Village Carpet now offers all types of floor coverings. Carpet, Ceramic tile, hardwood, laminate and vinyl are among the floor coverings available. The business motto has always been "provide a quality product, an excellent installation, all at a good price". It has proven to be a recipe for success. Village Carpet has gained much respect in the area and has gone on to supply and install many of the leading businesses. Stop by anytime and they will name a few. References are always available and proudly given.